Hi, after relaxing in my good ol hometown,
Kuching
, I've noticed that I have left my blog abandoned since I was busy with my Deadly assignments and spine chilling final projects. After going through those unthoughtful burden, I had my mind relaxed and prepared for my journey back to Kuching. The flight me and Edwin took was Airasia. We couldn't get the
Super Saver
Tickets for the Malaysian Airlines, so we had no choice but to book for the Airasia flights. This was my 1st time to ride on these
Airasia
planes. I'm not trying to insult the plane but seriously, the seats in the airplane was so darn narrow. The seats were so uncomfortable that I had spasmed my butt throughout the whole flight. The air-conditioner in the plane was seriously a heater and I started sweating when the plane took off from the ground. It wasn't a comfy ride home but the good thing was, I reached home safely and the weather in Kuching was wonderful. The air was clean, the people were nice, and best of all, My family was there. Seeing them was like tucking into a blanket in front of the heater during winter, and drinking a cup of hot chocolate.
After goofing around Kuching for a few weeks, it was nearly Christmas. I didn't had anything in mind, because I thought we were going to spend this Christmas somewhere else. But unfortunately, there were not enough hotel rooms in Singapore and the bird flu in China has left us abandoned in good ol Kuching. I had to spend this holiday here in my hometown for once. Well, it wasn't so bad after I learnt that my family was going to celebrate this event by having a small steamboat party with roasted turkey on
Christmas Eve
. Yay!!!!
Daddy booked this big fat roasted turkey from the Sarawak Club and it was quite costly. But the turkey was magnificent, just look at the colours and the size of it. It was worth the money and I still have the flavour savouring in my mouth until now. Mommy prepared the steamboat with a lot of this and that. We invited Grandpa and Aunties to come celebrate with us. It was a success.

Since I was allergic to Red Wine, mommy came out with this idea of ordering this wonderful drink called the "Fiesta Purple Cocktail" and it was magnificent. The colour of the drink was obviously purple but it tasted like sparkling apple juice only with a little cocktail feel in it. Then again, it is a brilliant drink to go with the turkey.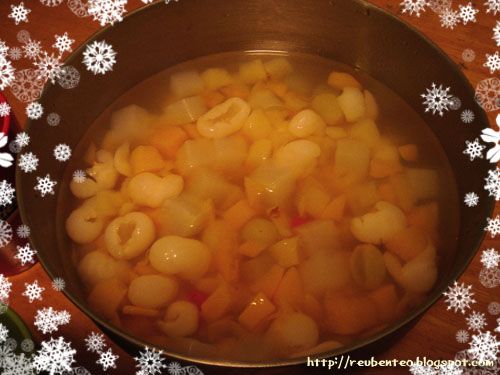 Next, was the dessert. This was something made from fruits such as, Longan, Pineapples, Peaches, Cherries, Grapes, Papaya and the delicious Nata de Coco. It was nice and cold and it was wonderful to end this comfy dinner. It was simply magical. After the dinner, everyone was happy and everyone left. I went to switch on my little christmas tree and this is how it looks likein 'worms eye view'. Kind of blur though.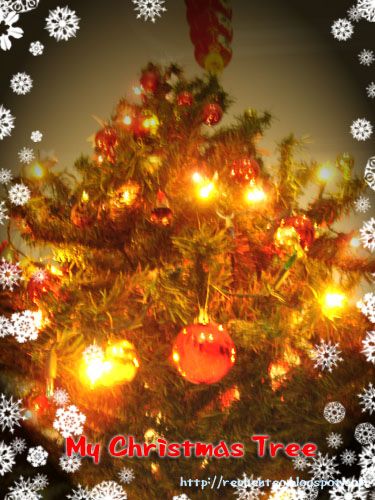 Anyways, Behind me were a couple of Bugs Bunny admiring my little tree. They were sitting there like waiting for Christmas to come. They were staring at the tree with their big eyes and admiring the lights shining upon the stars and ornaments on the Christmas Tree. Hmm.. But frankly, I think they are waiting for their presents.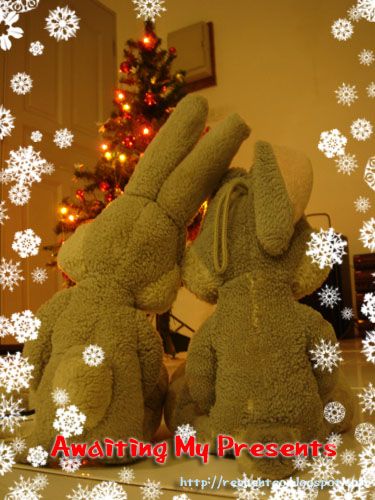 Then again, its time to sleep and remember, presents don't come if you don't sleep. And presents won't come if you aren't good. Always remember, Santa's a stalker and leave out some good old cookies and low fat milk if you haven't done anything good this year. So, good night eveyone and Merry Christmas to All!!!! Its freezing here in Kuching. *Yawn*