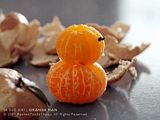 Merry Christmas
to Christians and
Merry X'mas
to non-Christians! Spending another christmas back in Kuching. No snow, no Santa Claus, no stockings, no Christmas Tree. But, there were alternatives.
Mommy had her own fun. Mommy came out with this wacky idea of making her version of a snowman. Well, not really a snowman, but a snowman wannabe. There was this trend of buying those mini sized mandarin oranges. Mommy bought a lot of them and she came out with this. I thought mommy's idea was funny, she even made a nose for this Orangeman. Hell yeah, it really looks kinda cute too, and tasty! yum!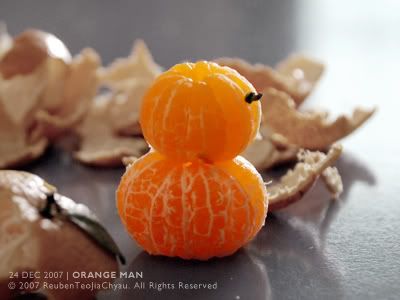 Well, what about daddy? Well, daddy went out with his friends in the morning to some ulu place in the outskirts of Kuching. He came back in the afternoon with 2 kilograms of big-ass bamboo clams! Nice~ They were so tasty that I forgot to take a shot of them. Daddy brought back something that I find kinda cute. It's these greenish, furry, little I-dunno-what fruit. Daddy says their edible, but I was suspicious. No one ate it and it's still on the wet kitchen table since daddy left it there. Here's a shot of those furry green balls.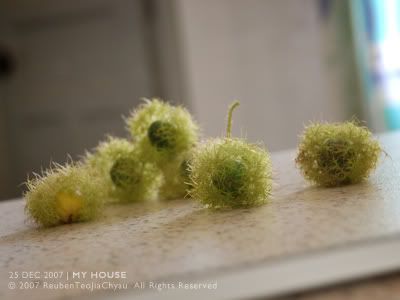 At night, the whole family went out for a Christmas dinner. We ate at non other than
Thian Court Restaurant
at Crown Towers. Mommy ordered some fantastic dishes. I stole a few shots before everyone dug into the food. Here comes the
Kung Pow Chicken
. Tender and juicy chicken stir fried in kung pow sauce. Looks kinda oily from the surface, but that's how the chef makes sure the Kung-powness of this dish remains. Scrumptious indeed.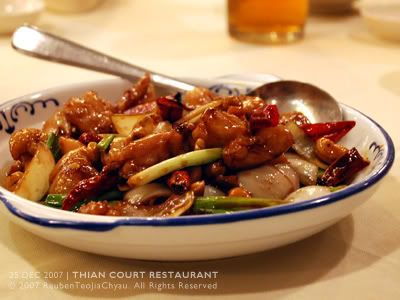 Then we had the delicious
Soft Shell Crabs
. These crabs make a lazy crab eater the happiest man on earth. Why? It's because that these crabs' shell is so damn soft, that you don't have to peel them off. All you gotta do is eat like usual (gobble for some).
Next, we have the
Baked Cod Fish in Japanese Sauce
. The fish that we all came for! The size of the fish is so freaking big. This dish was baked with japanese sause (whatever that is). It tasted a little bit salty, but with the tenderness of the fish, it made the other dishes feel cheap.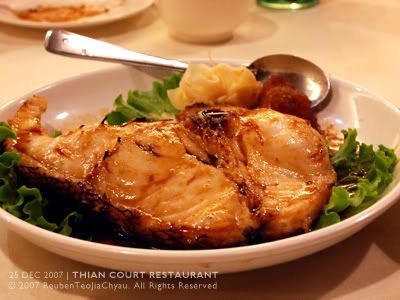 Last but not least, came the most special dish for the day. The
Cold Dish
! It was a special order and no one knew what it's going to contain, until it arrived. The trick was to let the chef of the day to choose 4 types of food and mix them together into one. As everyone anticipated for the arrival of this dish, the moment of truth was here. We could see rolls, pears, dumplings and jelly fish! All looked simply pleasant.
The
fried rolls
, are actually made from yam. Yam covered with fried flour, made it a very tasty snack.
The pear looking 'things'
are actually curry wrap in glutinous rice. Made to look like a pear for no reason, but who cared.
The dumplings
, looked like dumplings, but didn't really taste like one. Til now, I still can't figure out what was in the dumplings, but it tasted kinda good. Lastly, the
Jelly Fish
, I think this needs no description at all.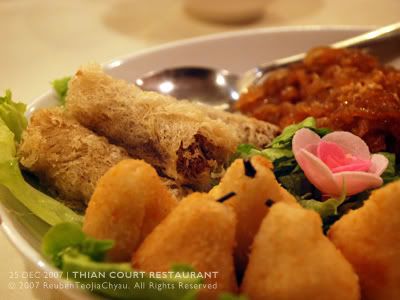 Well, another satisfying dinner for Christmas. This time, it was eating out. Though it didn't feel like Christmas, but it still made my day. Missing those fried rolls now. hmm... When I'm back to Sunway, I think I'll miss Kuching food even more. Haizz... Gotta head to bed now, *yawn Goodnight!