For those who has nothing to do with their internet connection, or those whose boss is not looking at their direction, or those who plainly loves
Flash Games
(like me), Here is one very unique and addictive game, and it's called "
The Last Canopy
". A shooter game for those who love to torture their eyes with colourful graphics flying across the screen. This game was designed to compete in the "Jayis Casual Game Design Competition #5"
The game has been up for a couple of weeks and has reached up to 150k hits according to the creator, "ahbonk" or simply for those who knows him by the name
Hazmer
(Yes, Hazmer, our Digital Media lecturer! Thank God it's
not
friday...
yet
) and his team at
Easy Only! Games
.
The game is about a fairy who has her own little weapon, but can absorb enemy's firepower with this string-looking thingamajig and then attack the enemy using the absorbed powers. The game comes in 4 difficulties and the higher difficulty you play, the higher marks you can get by killing the enemy. I personally love the insane mode! OMG!!! PLAY PLAY PLAY!!!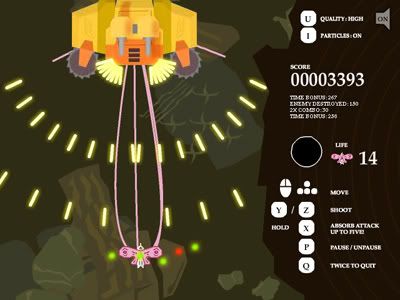 The enemies can turn really crazy and with one blink of an eye, it can result to a BBQ fairy.This game also trains a person's patience when it comes to dodging those insane firepowers. The controls are simple, all you need is your
mouse
and the letters
Z
(to shoot) and
X
(to absorb).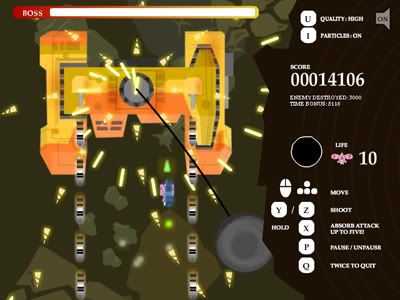 Last but not least, you can even submit your score up to the scoreboard. You can also vote for this game by pressing the "Vote for this game" button.
But please be informed that in order to vote, you need to pay US$1 (through PayPal). Here is the link to the game
http://jayisgames.com/cgdc5/?gameID=5
.