It got a little bored in the
department
around evening time. I was walking around the office with my camera and scouting for something to cheer my sleepy eyes up. Here, I found myself a couple of cute little figures lying on
Wen Yee
's table. She asked me to snap those little buggers and I did. Turned out these little things are so cheerful. Hehe~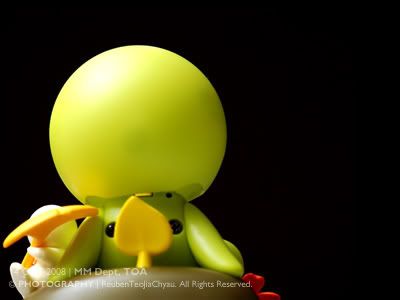 They were sitting there so innocently. It was powered by
sunlight
and one was relaxing with his hands on the ground while
shaking his head
, while the other was holding this funny looking leaf thing.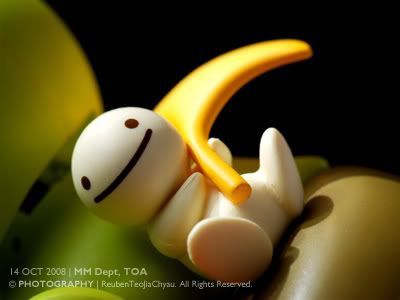 They were so darn
cute
. That big fat smile on their faces really made my day. Furthermore, the colours on them looked so tranquil and comfy. It just felt relaxing after staring at their cute little faces that I had to capture it down permanently. I just loved how that
lime green
coating looked when lit by those office lights. The colour is like
eye candy
! Okay Now! Pose! Snap!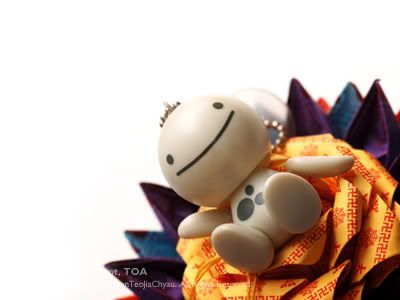 On my table, I too had two mini ones. I took the white one and placed him on Wen Yee's
Buddhist
lucky charm lotus thingy. Weee~ The little bugger looked so happy on the paper lotus. Waving to the camera! Haha...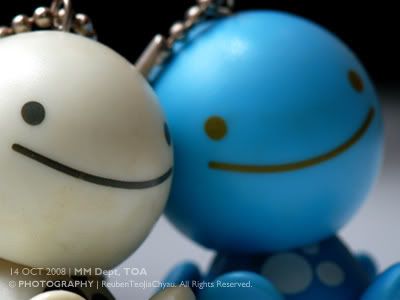 Well, mine had a blue friend alongside. So, I bet his smile is wider than Wen Yee's one. Hahaha... Friends forever.. sitting under my
LCD monitor
.