Introducing Air Asia's
No Fuel Surcharge
Policy. Attractive like Miss Universe, Cheap like buying a car. Well, marketing strategy-wise, they've got everyone ogling over it with saliva that can flood the
Straits of Melaka
. It's a really good way to increase your website traffic, while also increasing your competitor's web traffic as well (
*Malaysians like to compare before we buy,ok?)
. We all know that Malaysia is a country that encourages monopoly and
no
minimal improvements in service while selling it at high-class prices. eg:
*cough
Streamy...
*cough
...x.
Furthermore, Malaysia is also famous for their copy writing skills as well. We tend to simplify things, especially our way of conversing. We like to learn from big countries, less is more,
(*just like vely vely advanced nations like USA lah, UK lah, Ulope lah
). For example, when someone asks about the date and time, we would answer: "
7 lah
", when this actually means "
It's 6:56pm and it's a Thursday
". We call this "Potong" or "Potong Steam".
We are very friendly people who respect foreigners, especially taller and whiter people as we think they are smarter. We dress like them, fake our accents like them, watch their movies with wrong subtitles, think good asian products are theirs and more. Therefore, when a foreign tourist asks us for directions to a shopping mall, we would use our finger and point while saying, 'Neh~Neh.. there there, kenot see ah?'. Yes, we insist that our tourists friends know everything.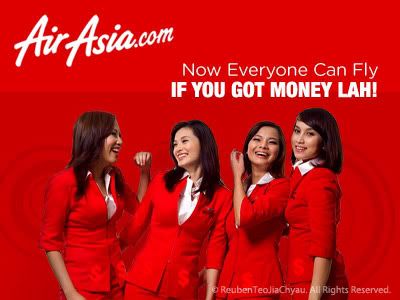 So, Air Asia's '
Now Everyone Can Fly
' is no other. There seems to be some missing text. Probably we have to see it through our "
Potong Steam
" context. Looking at cheerful
models
air stewardess, we don't mind checking out their websites for good prices.
Well, I've just booked my Chinese New Year tickets back to Kuching. I was so amazed to see that Air Asia has finally changed their perception of "
budget airlines
" to "
High class price with low class service, extra charge for baggage, extra charge for express boarding, extra charge for seat blocking, and selling food and t-shirts onboard
." Phew~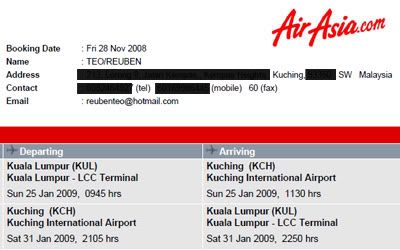 I received my
Flight Invoice
and
Itenerary
not long ago, and here, let's experience this syok-syok-ness together. Shall We?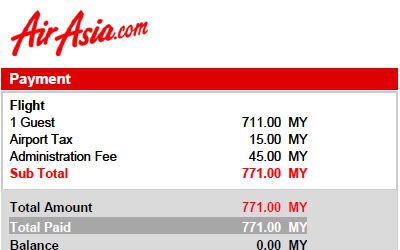 Now everyone can fly... my ass lah. Look at the price to Sarawak?
RM771??
RM771??
Sarawak is another country mei? I have to take 3 compulsory leaves and I can't even afford my air tickets back to my hometown without sponsorship from people? I can't even cover 1/5 of these air tickets with the predicted amount of ang-pows I'll get next year + bonus + what? *gloom gloom!!
You get poorer and lots of headaches everytime you go back to your hometown. But if I don't go home, I'm gonna rot in Sunway, like that cat that was knocked by a car a couple of weeks ago.
Kuching
is like approximately
980km
away from Kuala Lumpur. Yes, the distance is undeniably far, almost similar to the distance to Bangkok. But isn't it unfair? Flights to Bangkok is cheaper, while Bangkok is in Thailand, another country, HELLO?
Sarawak is a low income, undeveloped, ulu ulu jungle with lots of petrol
(we only get 5% royalty from this)
& timber & gold & natural gas for KL government to exploit and built two huge similar Corns on a cob and send some freakin model to follow White people up to space and kacau for no reason. Now, East Malaysians have to suffer and pay their flights home just like paying to follow people up to space. Well, Malaysia Airlines seems to be quite cheap, if this price is to fly up to
space
Sarawak. RM858.
Anyways, now I think everyone can fly. Just maybe fly once then have to save money for a long long time only everyone can fly again lah.. Til then...bye