Aaaargh!! Finally, something is off my hands. I've just finished one of my latest projects. Feel a lot more lighter and less stress? No loh, I still don't feel that because I have other projects on hand. *sad sad. Been really really really busy and my head is gonna burst. Anyways, let's get to the point.
The image above is the site for the
TOA Creative Media Award

(click to enter)
, that me & Mafex worked together on. This year, we are using the theme from
Disney•Pixar
's upcoming film, called
UP
. I have also worked on last year's
CMA website
which is based on the film
Wall•E
. Which is not online anymore. But below here is a screen shot for your reference. :)
When working on
Disney•Pixar
projects, it gives me a sense of belonging in the industry and inspires me in many ways. It trains me most in my researching skills, my
AS3
scripting skills and responsibility in handling web challenges. Through my thorough research on the film
UP
, I've just noticed something really interesting about
Pixar
that I would like to share with everyone.
Did you know that
Pixar
plants many hidden things in their movies? It's sort of like a
hidden mickey
in Disney's cartoons. In Pixar films, they plant hidden characters or symbols which may sometimes appear for just a second or more. We call this the
Easter Eggs
of Pixar. I have found some to share with you guys. Here are some examples:
Here you can see from two different Pixar films, but having the same scene and almost similar angle. In "
A Bug's Life
" and "
Monster's Inc
" they both appeared with the caravan and that pizza truck
(this truck first appeared in Toy Story and then in all the other latter Pixar films)
.
There easter eggs can be found and makes Pixar films a little bit more interesting than I thought. Another fascinating fact is that Pixar also plants in clues of their upcoming/next film in older films. Take a look at the examples below and you'll know what I mean.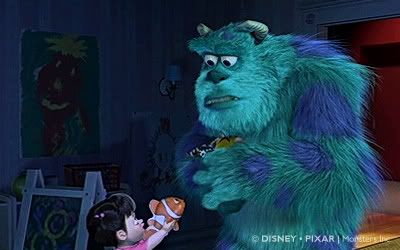 In 2001,
Monster's Inc
was released and their clue for an upcoming film was this scene. Whereas you can actually see
Nemo
from
Finding Nemo
(released in 2003)
held by
Boo
.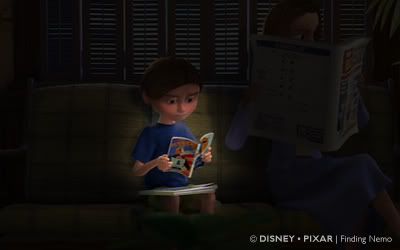 In 2003,
Finding Nemo
's scene in the dentist office, there is a kid reading a copy of
The Incredibles
(released in 2004)
comic book.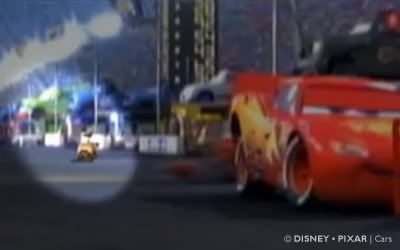 In 2006, A scene in the film
Cars
, there was a little robot behind who passed by. With a closer look, it pretty much looked like
Wall•E
(released in 2008)
.
In 2007, the film
Ratatouille
where Remy was chased by a dog. This dog shadow looked so similar to the upcoming film
UP
's (released in 2009) dog called
Dug
.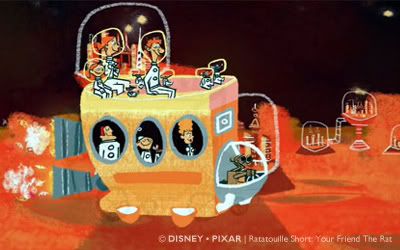 And in the following year of 2007,
Ratatouille
had a short called "
Your Friend the Rat
". It is when Remy and Emile sings the song "
Plan B
", look carefully
who the driver is
in this scene! It is It is.... that little robot. Haha... Here, let me share the video with you.
So everyone might be guessing, who is gonna appear in
UP
? Who is the next character to be planted as an Easter Egg? Well... here is the answer:
This is a
new character
which will appear in their next film
Toy Story 3
. A
pink teddy bear
for which I have not yet to find out his name. So, get your eyes ready for more clues and may
Pixar
films give you more surprises in the future.
(Tip: look out for that little ball in this scene in all other Pixar films too. It's called the Luxo Ball)
.